We are pleased to offer some optional hands-on projects. You don't need to sign up for one of these projects, there is plenty to do even if you don't sign up. These projects are intended for the family that has been to a Living History Event many times and want to do something more. As space is limited and pre-registration for the projects is required, be sure to reserve your spot soon! (see registration information below)! Each participant must be 8 years or older or be accompanied by an adult. The projects start on time with instructions given at the beginning of the session. Because of this and the fact that the projects take a certain amount of time to complete, your punctuality is necessary
Brown Bess Musket – $20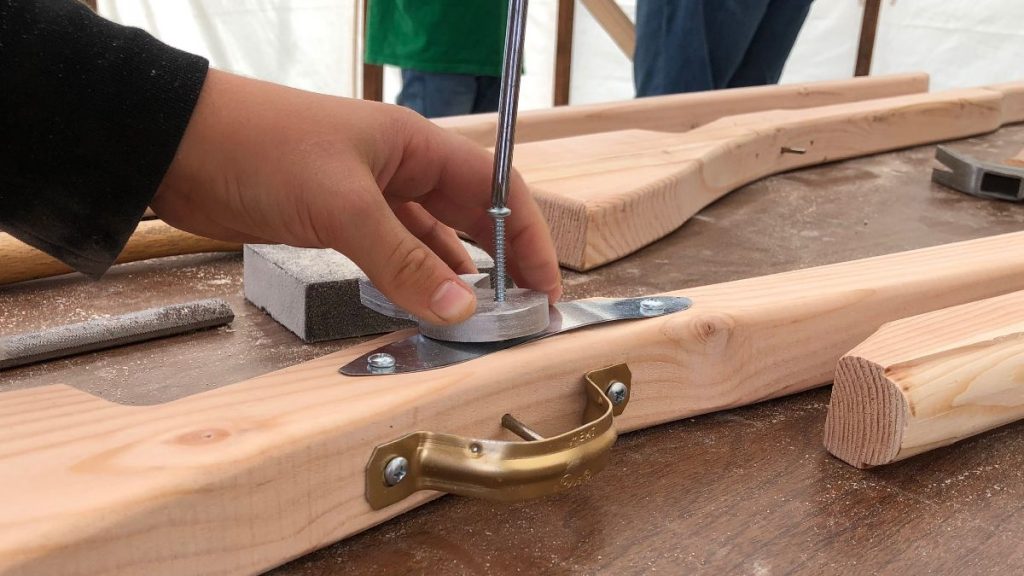 Project time starts at 9:30AM and 1:30PM on both days of the event.
Do you have a child that wants to feel like a real Colonial soldier or a Longhunter? The Brown Bess musket is made from rough stock. Finishing includes rasping, filing, and sanding, as well as attaching the trigger plate and guard, frizen, etc. After they are done they can head out to be mustered by either the British or Colonial army.
Tin Punch Box – $10 *NEW*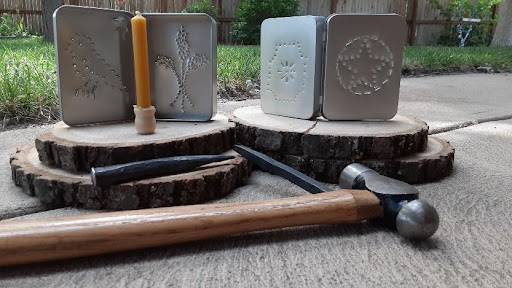 Project time starts at 9:30AM and 1:30PM on both days of the event.
Punch your very own tin candle box. Use the box to store the included candle and candle holder, and it can be used as a wind screen or reflector when the candle is lit. This is a fun pocket sized version of our classic tin punch project, and you can select 2 patterns instead of just one.
1. Project is suitable for ages 6 and up, although parent assistance is likely required for those younger than 10 years old.
2. The tin punch box project takes about 15-20 minutes to complete. There are 8 patterns from which to choose.
3. Each participant receives a tin box, beeswax candle and wooden holder.  The candle tucks away in the closed tin for easy transport.
Registration and Payment
Caution: If you try to register for a session which is full, you will get an error from PayPal. Please check the "Qty Remaining" below each project to make sure that there is still space remaining.
Return Policy: If you need to cancel your registration before the Friday of the event, please email info@livinghistorydays.com, and your payment will be refunded. Emails will not be answered starting Thursday until the Monday after the event, so don't panic if you don't get a reply. We still have to pay the credit card fees, even on cancellations, so we reserve the right not to refund the fees if you cancel more than once. If you need to cancel the day of your registration, please email as early as possible, and if we are able to fill your spot we can refund your registration fee. There are often guests trying to join the projects on the day of, and providing us early notice allows us to let someone else participate.
Project registration will open approximately 8 weeks before the event, and will probably be full 1-2 weeks before.
| | |
| --- | --- |
| Brown Bess Musket | Tin Punch Box |